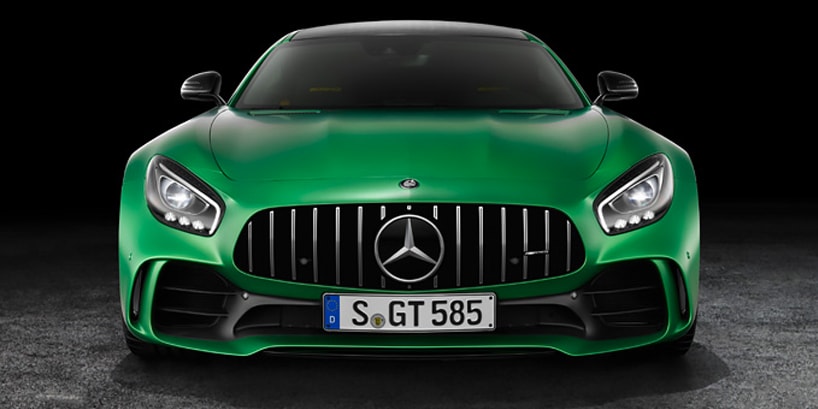 The Mercedes-AMG GT R is so impressive. The AMG design, which is the basis for the most expressive overall appearance of the Mercedes-AMG GT R. All elements of the vehicle have great technical perks and help to contribute to the driving dynamics. This car is sensual with its new front fascia with active elements, a large rear aerofoil and the new rear fascia with double diffuser enhance aerodynamic efficiency and help ensure optimum grip. The grille emphasizes the uniqueness of the AMG model and the AMG GT R is the third member of the AMG GT family.
The AMG GT R was designed with the racetrack in mind, with the ability to go 0-60 mph in 3.5 seconds and a top speed of 198 mph, combined with the outstanding driving dynamics. What makes the Mercedes-Benz AMG GT R stand out more? It's Green Hell Mango color. It also has fantastic details from the grille to the exhaust.
The impressiveness doesn't stop with the outside. Under the hood, the AMG 4.0-liter twin-turbo engine produces a monstrous 585 hp, which is 75 more than its GT S predecessor. Its peak torque is available between 1,900 and 5,500 rpm and the V-8 engine features the tried-and-tested twin turbochargers, which aren't mounted on the outside of the cylinder banks. They are instead found inside the V configuration - called a "hot inside V" by the AMG experts.
The seven-speed dual-clutch transmission configured in a transaxle layout at the rear axle has been revised by the AMG engineers to make the transmission even more suitable. The AMG GT R can be configured to Comfort, Sport, Sport Plus and Individual driving modes to fit the personal driving preferences of the driver by using the AMG DYNAMIC SELECT controller. The "RACE" mode optimally adjusts the shift strategy of the dual clutch transmission to the needs of racetrack usage.
Learn more about the Mercedes-AMG GT R and contact Mercedes-Benz of Tampa, serving the Tampa, Orlando, and Sarasota areas today to meet the Beast of the Green Hell.