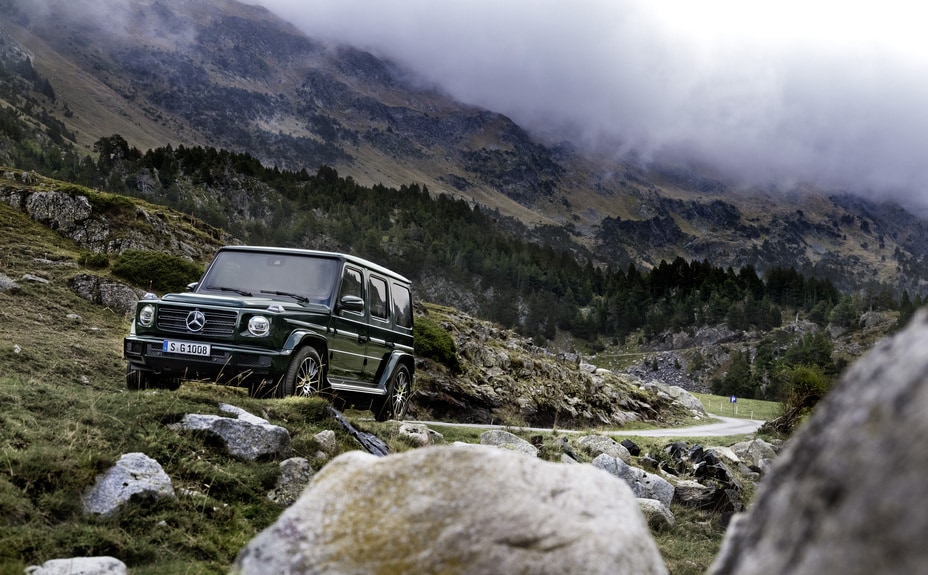 Whether on or off the road and no matter what the conditions, the off-road vehicle, the Mercedes-Benz G-Class is impressive. Why? Because of its performance, outstanding handling, cutting-edge assistance systems, and safety. At the same time, the new suspension, the DYNAMIC SELECT driving modes, the "G-Mode" and the three 100-percent differential locks enhance not only ride comfort but also they also help with agility on any surface.
The luxurious off-road vehicle, the Mercedes-Benz G-Class is equipped with a host of new standard features like advanced driver assistance systems, LED headlamps, a high-quality interior with leather seats and a new suspension.
The G-Class has long been considered a design icon with an external appearance that has not changed significantly since 1979. Its Iconic elements continue to serve specific purposes and important features are still found in the new G-Class like the distinctive door handle and the characteristic closing sound, the exposed spare wheel on the rear door, the robust exterior protective strip, and the prominent indicator lights all pair together in conjunction with the off- roader's angular lines which help to define its special distinctive look.
While the exterior of the G-Class maintains its classic iconic look, the interior has undergone a fundamental redesign. With its off-road character and world-class luxury appointments, the G-Class has always combined both extremes into harmony together.
Inside the G-Class, the shape of the round headlamps is reflected in the side air vents and the design of the iconic indicators are also found in the shape of the loudspeakers. Hallmarks of the G-Class include the grab handle in front of the front passenger seat and the chrome-highlighted switches for the three differential locks.
The G-Class instrument panel has been completely redesigned and features a timeless tube-look with analogue round dials as standard. In addition, drivers can use the touchpad with controller in the center console without taking their eyes off the road. The input options are rounded off by shortcut keys in front of the controller for frequently used operating tasks, and by the optional control panel for the driving assistance systems above the rotary light switch. The driver sits up close to the windscreen and enjoys good all-round visibility from behind the wheel.
The 2019 G-Class will go on sale in the U.S. by late 2018. Contact us at Mercedes-Benz of Tampa to learn more.