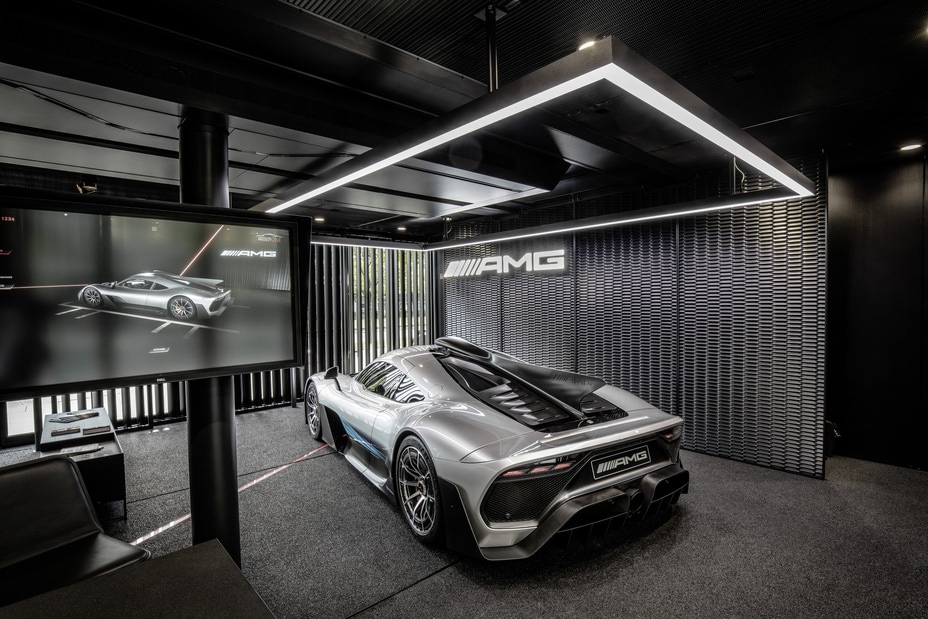 When one vision becomes one reality the outcome needs one name. Mercedes-Benz has officially unveiled the name of the future hypercar: Mercedes-AMG ONE. The name stands for the highest automotive ambition: to bring Formula 1 hybrid technology to the road. Mercedes-AMG ONE will be the ultimate of the model portfolio and the absolute top-of-the-line model. With intensive testing that's been ongoing on high-performance test stands and race tracks, Mercedes-AMG now presents the latest development status of an outstanding technical feature: the active aerodynamics.
The active aerodynamics, which has been undergoing wind tunnel testing, features a multi-part, two-stage extendable rear wing for maximum downforce in race mode. Nowhere is better knowledge of aerodynamics to be found than in the top tier. And the experts at the high-performance subsidiaries in Affalterbach, Brackley and Brixworth are working across borders on just one goal: to bring racing technology to life in a street-legal vehicle.
For those who would like to own the Mercedes-AMG ONE in the future, they can now obtain comprehensive information on the development progress of the vehicle. In an exclusive, mobile showroom entitled "The Future of Driving Performance", Mercedes- AMG showcases the latest status of the hypercar, including a chance to sit in the cockpit, along with a demonstration of the individual equipment options. All of this is made possible by a custom-built trailer with extendable sides.
This creates a mobile customer showroom with vehicle display, coffee bar, lounge and various information elements, such as touch screen animations, material samples and color examples. And good news! The contents are regularly updated and supplemented. The information on offer is rounded off by video documentations and interviews.
A short video clip is available here.
Want to learn a bit more about the Mercedes-AMG ONE? We can assist. Contact us at Mercedes-Benz of Tampa today.