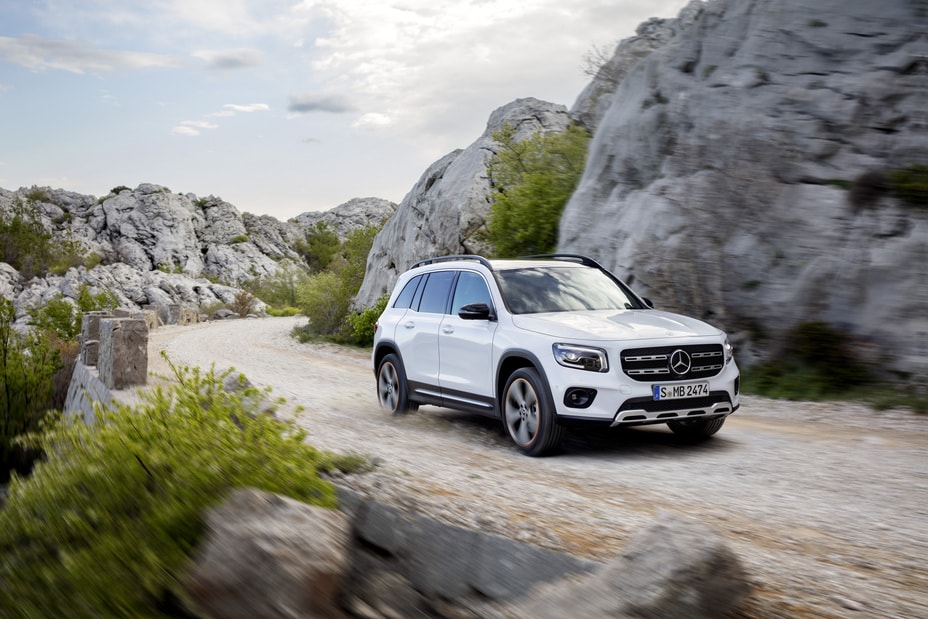 The new Mercedes-Benz GLB is a versatile SUV with powerful proportions, short overhangs and an off-road-oriented design. Oh and let's not forget that it also offers an optional 4MATIC all-wheel drive. Globally, one in three Mercedes-Benz cars is now an SUV, and one in four is a compact model. With the new GLB, the compact car family from Mercedes-Benz now consists of eight models: the A-Class, A-Class Sedan and long-wheelbase A- Class Sedan, B-Class, CLA Coupe, CLA Wagon and the GLA.
The GLB is a spacious family car that offers even more flexibility as the first Mercedes-Benz in this segment available as a seven-seater. With powerful and efficient four- cylinder engines that are paired with the latest driving assistance systems, as well as the intuitively operable infotainment system MBUX, it helps to equip this new family member with all the strengths of the current generation Mercedes-Benz compact-class.
The GLB is the first compact vehicle from Mercedes-Benz to offer an optional third row with two additional seats. The extensive safety equipment includes retractable headrests, seat belts with belt tensioners, and a side window airbag, which also protects the passengers in the third seat row.
The instrument panel consists of a single piece, which has optical cutouts in the driver and front passenger area. The GLB features a widescreen cockpit that faces the driver while the functions and displays are controlled via the Mercedes- Benz User Experience.
A new feature is the off-road tubular element in an aluminum look, which rounds off the lower section of the instrument panel and houses the three round center air vents. These not only give the dashboard support, but they also create an impression of robustness, power and a certain element of fun.
The new GLB features a four-cylinder gas engine, which was completely updated to relaunch the compact model series. In comparison to the previous generation, the GLB is characterized by significantly increased power, improved efficiency and emissions.
The all- new 2020 Mercedes-Benz GLB will go on sale in the U.S. by the end of the year. To find out more details about the GLB, contact us today at Mercedes-Benz of Tampa.