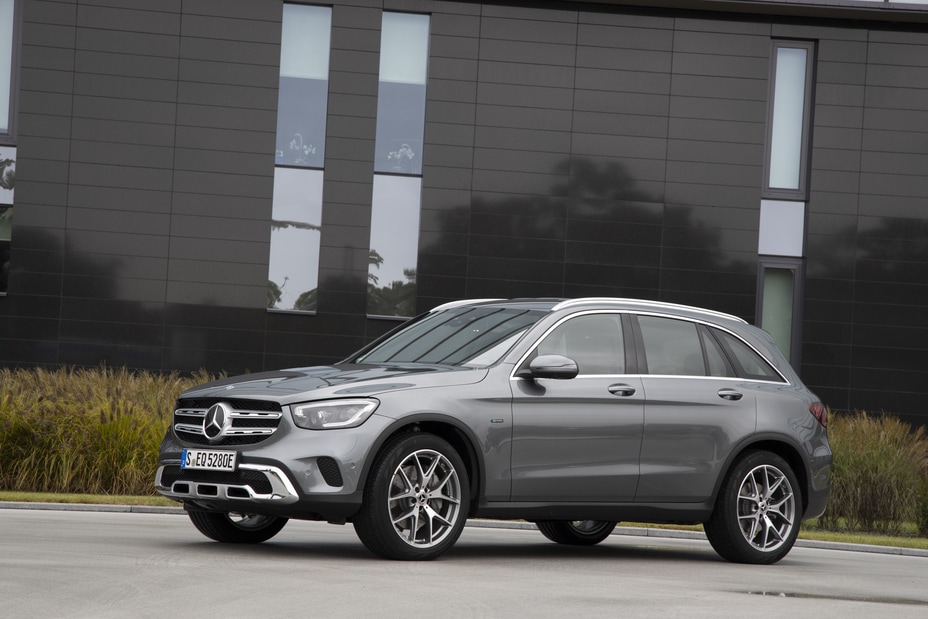 The plug-in hybrid Mercedes-Benz GLC 350e 4MATIC EQ Power impresses with its third-generation plug-in hybrid technology from Mercedes-Benz. Thanks to a battery with a capacity of 13.5 kWh, the GLC 350e 4MATIC EQ Power will benefit from increased all-electric range.
The Mercedes-Benz GLC is a mid-size SUV with an intelligent combination of functionality and agility all while featuring a modern design and offering outstanding comfort and functionality. It includes a spacious interior and is attractive to customers who wish to drive a highly versatile premium SUV. The recent redesign of the vehicle sees the GLC boasting an even more striking design, all while including the MBUX (Mercedes-Benz User Experience) infotainment system and state-of-the-art driver assistance systems. With the redesigned GLC 350e 4MATIC EQ Power, customers benefit from these enhancements in addition to the versatility and efficiency of a plug-in hybrid.
The exterior is characterized by its sporty features such as a distinctive off-road look that is accentuated by muscular surface contours and striking like chrome trim that continues from the front end to the rear, and by the heavily contoured radiator grille. The standard LED High Performance headlamps and taillamps have been redesigned with their contours significantly changed. They are now smaller and flatter, making the torch-like outline of the daytime driving lights even more prominent, and the typical Mercedes-Benz light signature even more recognizable.
From the very start, the GLC was designed for space-saving integration of a battery. This is assisted by the lowered rear axle and a body shell designed for battery integration. The result is a large, level luggage compartment which is only just below that of other GLCs.
The redesigned Mercedes-Benz GLC 350e will go on sale in the U.S. in the first half of 2020. For more information about the Mercedes-Benz GLC 350e, contact us today at Mercedes-Benz of Tampa.